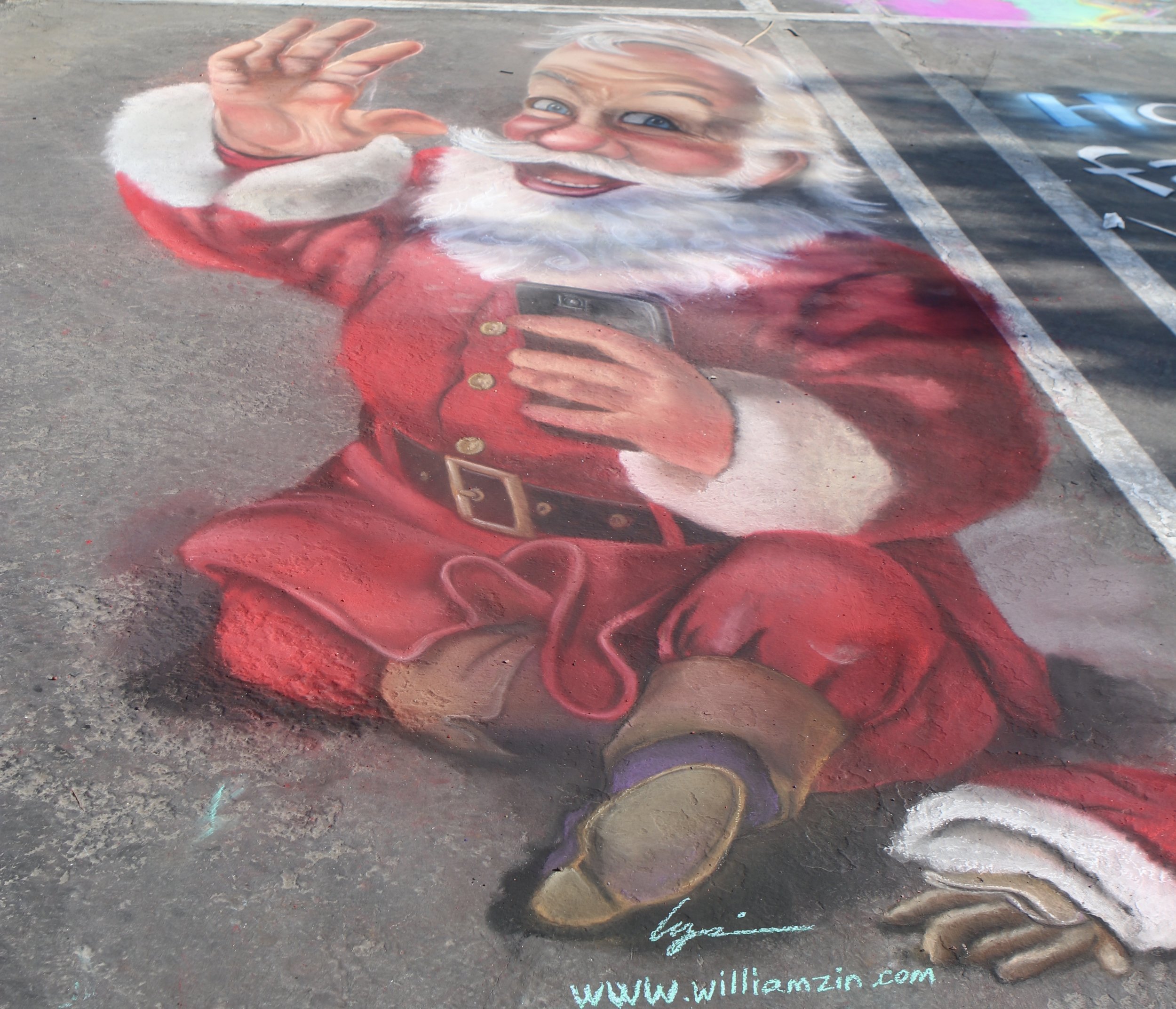 Aliso Viejo, Calif. — The 4th annual Christmas Chalk Walk, hosted by the The Church of Jesus Christ of Latter-day Saints Laguna Niguel Stake, delighted revelers of all ages with beautiful art, festive music & nativity, inspiring community camaraderie and delicious treats on Friday and Saturday night (Dec. 15-16). More than 200 artists participated in the 2017 Chalk Walk which included many locals but also some from as far away as Bakersfield, San Diego, 29 Palms, Long Beach and St. George, Utah as they began their art pieces on Thursday (Dec. 14).
Thousands of guests were treated to over 2,300 cinnamon rolls and hundreds of gallons of hot chocolate along with a changing live Nativity over the two nights. Patrons strolled through the wondrous stalls to holiday tunes as well as spectacular live performances Friday and Saturday evening.
Saturday night began with Mayor Choice Awards as Mayor Dave Harrington (Aliso Viejo), Mayor Melody Carruth (Laguna Hills) and Mayor Elaine Gennawey (Laguna Niguel) presented a special accolade for their personal favorite chalk art of the event.
Mayor Genneway remarked, "My favorite part about Christmas is that it is all about the family and family can come in many different forms. The reason I chose the penguin design to receive the Laguna Niguel Mayor's Choice Award is because I felt that it best represented the idea of Christmas and family."
Other council members in attendance included Ross Chun (Aliso Viejo), Bill Phillips (Aliso Viejo), Mayor Pro Tem Phil Tsunoda (Aliso Viejo), and Don Sedgwick (Laguna Hills.)
The weekend's success is due in large part to the community support, but the hours upon hours of thought, planning and work that event organizer, Kristen Kamerman, and her "Dream Team" devote to the Chalk Walk is what brings it all to life and makes it the Christmas event that everyone in the surrounding area has come to know and look forward to the each year. A huge thank you to Kristen and her team which included (but not limited to, because there were many extra helpers) Walt Hick, Leo Del Rosario, Bruce Chang, Kristin McBride, Paige and Scott Flora, ReahAnne Nobleza, Yvonne and Jeff McPherson, Trent Kamerman, Linda Zambrano, Elizabeth Muirbrook, Carrie Cook, Barbara Cook, Melissa White, Andrea Bunting, Jennifer Stewart, Lori and Dave Morse, Ken and Connie Johnson, John Thurman, Sharla and Chris Marocchi, Erik Hall, Kevin Bowcut, Ron Hoopes, Trevor Briggs and Shawn Hansen, the missionaries serving in Laguna Niguel Stake and so many others including the 48 people who helped bake! Community businesses were also amazing in their donations including CircusTrix, Nothing Bundt Cakes, Jimboy Tacos, Big Air, Baja Fish Tacos, Fresh Brother's Pizza and many more!
Kristen Kamerman reflected on the event, "The Christmas Chalk Walk is a wonderful event that brings people together of all walks of life. We are in this world together, all beloved children of our Heavenly Father, each of us have been given great gifts and talents and as we come together at this special time of year we can celebrate the spirit of Christmas and Light the World."